WELCOME
Live the magic and the mystique of San Pedro de Atacama, get amazed by the renewing energy of the desert in Iorana Tolache Hotel
ROOMS
Fill yourself with San Pedro de Atacama's renewal energy, on our 35 comfortable rooms with maid service, shower, closet, desk, phone and room heating.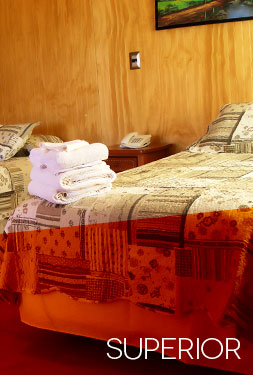 SUPERIOR
These are divided into:
SINGLES
DOUBLES
TWINS
TRIPLES
Includes
Private Bathroom, room heating and phone.
RATES
ADDITIONALS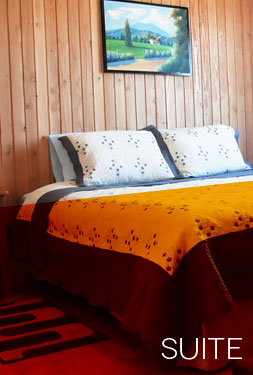 SUITE
These are divided into:
SINGLES
DOUBLES
Includes
Private bathroom with Jacuzzi, room heating, phone and television.
RATES
ADDITIONALS
USEFUL TIPS
WHEATER
San Pedro de Atacama, has a high desert climate with great temperature variation between day and night. The temperature in summer is 30° C during the day and 16° C at night, there is presence of showers and thunderstorms due to the Bolivian winter. During the winter the temperature is approximately 22° C during the day and 4° C at night.
CLOTHING
Due to the marked which is the temperature variation is necessary to bring summer clothes for the day and winter clothes for the night. Boots and shoes are recommended for hiking, sandals are not recommended due to the amount of dust on the streets.
Essentials: Sunglasses, sunscreen filter, moisturizer, hat, thick coat, flashlight and binoculars.
CURRENCY
The local currency in Chile is the "Chilean Peso". There are coins of $ 1, $ 5, $ 10, $ 50, $ 100 and $ 500 pesos, and bills of $ 1,000, $ 2,000, $ 5,000, $ 10,000 and $ 20,000. There are 4 ATMs, and a lot of money exchange services. Dollars and credit cards are accepted in most shops.
COMMERCE
Business hours of stores, shops and council dependencies from 9:00 to 14:00. and 17:00 to 22:00 hrs. Restaurants and travel agencies available hours are 8:00 to 24:00.
CONTACT FORM
Fill the form below to ask for more information or book your stay, we will respond you soon.
HOTEL MAP